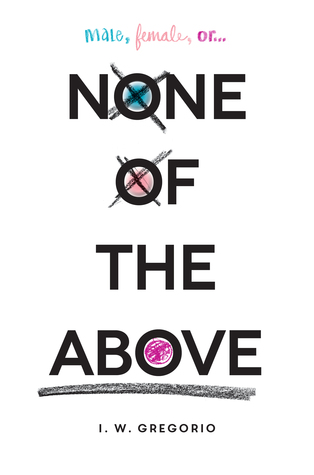 Title:
None of the Above
by I.W. Gregorio
Series?:
N/A
Pages:
ARC, 352 pages
Publisher:
Balzer + Bray
Release Date:
April 7th 2015
Dates read:
February 5th to 7th, 2015 (Thank you to Edelweiss and Balzer + Bray for the chance to read & review this eARC!)

Goodreads Synopsis:
A groundbreaking story about a teenage girl who discovers she was born intersex . . . and what happens when her secret is revealed to the entire school. Incredibly compelling and sensitively told, None of the Above is a thought-provoking novel that explores what it means to be a boy, a girl, or something in between.
What if everything you knew about yourself changed in an instant? When Kristin Lattimer is voted homecoming queen, it seems like another piece of her ideal life has fallen into place. She's a champion hurdler with a full scholarship to college and she's madly in love with her boyfriend. In fact, she's decided that she's ready to take things to the next level with him.
But Kristin's first time isn't the perfect moment she's planned--something is very wrong. A visit to the doctor reveals the truth: Kristin is intersex, which means that though she outwardly looks like a girl, she has male chromosomes, not to mention boy "parts." Dealing with her body is difficult enough, but when her diagnosis is leaked to the whole school, Kristin's entire identity is thrown into question. As her world unravels, can she come to terms with her new self?
Rating:
3.5/5 stars
I'll admit right away that I was somewhat weary about picking up this book. Not because of the subject matter, but because I was worried about how such a touchy subject would be handled. I have to say, I was so wrong. I.W. Gregorio did a wonderful job with
None of the Above
and it's definitely one of my favourite LGBT+ books of the year (even ever) so far.
What definitely made this book was the writing and the very obvious care that the author took to research intersexuality and all of its aspects. Even though I have a family member who is intersex, I never really understood what that meant, other than that they were born with both sets of genitalia (and I do think that that's the extent to which most people understand it, too).
None of the Above
was informative and the context in which the story was set made it realistic and even somewhat relatable. My heart broke for Kristen at times, especially once her secret was leaked to the school.
The discussions that Kristen had with her doctors about gender and what made her a woman were also very interesting, because it provided a mirror into today's society's perception of gender binaries and how people who are intersex like Kristen, or even transgendered, etc, can be hurt by this binary. These discussions and points were very thought-provoking and I loved that I.W. Gregorio included that in
None of the Above.
I also loved the fact that Kristen's friendships were an emphasis in
None of the Above
. While she was going through finding out about her diagnosis and coming to terms with it, there was an emphasis on the fact that she needed a support system of friends and family, even more than the support from her boyfriend. This isn't something that is found in YA novels in general, so it was nice to see this in a book like
None of the Above.
Like I said before,
None of the Above
is a very informative novel. This means that it can
occasionally
become slightly info-dumpy, where the reader just gets a bunch of information about Kristen's diagnosis. However, I do understand that this isn't a book that would have been easy to write and I.W. Gregorio was able to write it well so that the information we received was twined with the story itself. But I did find that there were moments where I just wanted to story to get on with it, instead of staying on one particular scene/subject.
All in all,
None of the Above
was a great story. It's most definitely an important story to be told because mainstream YA
doesn't
usually have this kind of story. I can definitely see it becoming one of those well-known YAs, like John Green's books. And truthfully? It really, really deserves it. I.W. Gregorio wrote a beautiful book about a tough, mostly unknown subject and did it beautifully and respectfully - with a character who's personal growth is written amazingly, all the while making it a story that anyone can enjoy. I really, really recommend this book to anyone looking for a refreshing, diverse YA that happens to have a very cute love story.