Hey everyone! I've decided to start this new feature called Cover Reveal Thursday! This won't be a recurring meme because covers aren't necessarily reveal every week. Basically, whenever a cover is revealed from one of my favourite series/authors (or a debut author's book that I'm looking forward to), on the Thursday of that week, I'll post it here and discuss it a little because I am definitely one of those people that judges books by their covers.
Hope you enjoy!
This week, there were three covers released that I really, really loved: Sara Raasch's Ice Like Fire, Leigh Bardugo's Six of Crows (aka the reason I waited til today to post this) and Robert L. Anderson's Dreamland !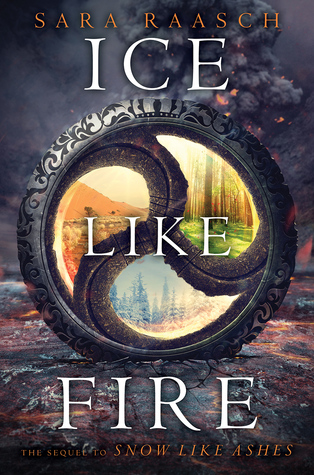 Title: Ice Like Fire by Sara Raasch
Series: Snow Like Ashes, book #2
Publisher: Balzer+Bray
Release Date: October 13th 2015
Synopsis (may contain spoilers):
It's been three months since the Winterians were freed and Spring's king, Angra, disappeared—thanks largely to the help of Cordell.

Meira just wants her people to be safe. When Cordellan debt forces the Winterians to dig their mines for payment, they unearth something powerful and possibly dangerous: Primoria's lost chasm of magic. Theron sees this find as an opportunity—with this much magic, the world can finally stand against threats like Angra. But Meira fears the danger the chasm poses—the last time the world had access to so much magic, it spawned the Decay. So when the king of Cordell orders the two on a mission across the kingdoms of Primoria to discover the chasm's secrets, Meira plans to use the trip to garner support to keep the chasm shut and Winter safe—even if it means clashing with Theron. But can she do so without endangering the people she loves?

Mather just wants to be free. The horrors inflicted on the Winterians hang fresh and raw in Januari—leaving Winter vulnerable to Cordell's growing oppression. When Meira leaves to search for allies, he decides to take Winter's security into his own hands. Can he rebuild his broken kingdom and protect them from new threats?

As the web of power and deception weaves tighter, Theron fights for magic, Mather fights for freedom—and Meira starts to wonder if she should be fighting not just for Winter, but for the world.
Why I'm excited:
So, I haven't actually read
Snow Like Ashes
yet, though I do hope to get to it soon because from the few excerpts I've read so far, it sounds like a really great novel. Plus these covers are just absolutely gorgeous -
Ice Like Fire
has to be hands down one of my favourite covers released so far this year and it just makes me want to read this series even more. And isn't that what a great cover is supposed to do?
Title:
Six of Crows
by Leigh Bardugo
Series:
The Dregs, book #1
Publisher:
Henry Holt and Company
Release Date:
October 6th 2015
Synopsis:
Game of Thrones meets Ocean's Eleven in this brand-book in the world of the Grisha by New York Times-bestselling author Leigh Bardugo. Ketterdam: a bustling hub of international trade where anything can be had for the right price—and no one knows that better than criminal prodigy Kaz Brekker.
Kaz is offered a chance at a deadly heist that could make him rich beyond his wildest dreams. But he can't pull it off alone...
A convict with a thirst for revenge.
A sharpshooter who can't walk away from a wager.
A runaway with a privileged past.
A spy known as the Wraith.
A Heartrender using her magic to survive the slums.
A thief with a gift for unlikely escapes.
Six dangerous outcasts. One impossible heist. Kaz's crew is the only thing that might stand between the world and destruction—if they don't kill each other first.
Why I'm excited:
I am a huge fan of Leigh Bardugo's Grisha trilogy. I binge-read them in about two weeks last September and I can say it's definitely one of my favourite fantasy series ever. So, when I heard that Leigh Bardugo was writing
another
series set in the Grishaverse, I was obviously super excited. That synopsis is just...
yes
. The cover was released today (which is why I waited to post this today instead of yesterday) and man... it's just beautiful. I love the way the crow's wings also makes buildings from a city. This is just a beautiful cover from a no doubt beautiful series and I
cannot
wait to read it!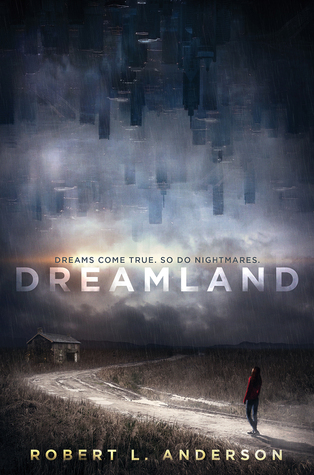 Title:
Dreamland
by Robert L. Anderson
Series:
N/A
Publisher:
HarperTeen
Release Date:
September 22nd 2015
Synopsis:
Odea Donahue has been able to travel through people's dreams since she was six years old. Her mother taught her the three rules of walking: Never interfere. Never be seen. Never walk the same person's dream more than once. Dea has never questioned her mother, not about the rules, not about the clocks or the mirrors, not about moving from place to place to be one step ahead of the unseen monsters that Dea's mother is certain are right behind them.
Then a mysterious new boy, Connor, comes to town and Dea finally starts to feel normal. As Connor breaks down the walls that she's had up for so long, he gets closer to learning her secret. For the first time she wonders if that's so bad. But when Dea breaks the rules, the boundary between worlds begins to deteriorate. How can she know what's real and what's not?
From talented debut author Robert L. Anderson comes a stunning, complex, and imaginative story of the fine line between our dreams and our reality.
Why I'm excited:
I actually just found out about this book today, from seeing a few authors discuss it on my twitter dash. I decided to check it out because why not. Then I saw the cover. My mind just immediately went
wow
. It's amazing and I automatically got the sense that the story was going to have some sort of scary/horror aspect to it, and that it would have to do with dreams. When I read the synopsis, I was right! Basically, the reason I love the cover because not only is it chilling and really freakin' cool, it also gives an idea as the what the story is going to be about which is the making of a great cover.
Dreamland
is definitely going on my TBR! (It comes out three days after my birthday so maybe it'll be a b-day present to myself ;)
What do you think of these covers? Are you just as excited as I am? Comment below!