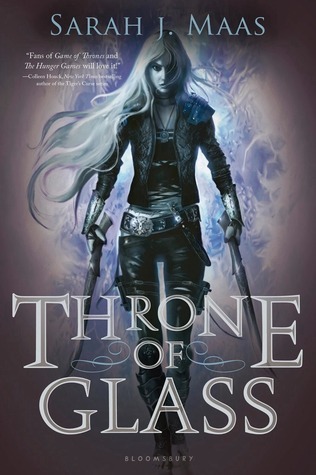 Title:
Throne of Glass
by Sarah J. Maas
Series?:
Throne of Glass, Book #1
Pages:
404 pages
Publisher
: Bloomsbury USA Children's
Dates read:
February 7th-9th 2015 (hardcover copy)
Goodreads Synopsis:
In a land without magic, where the king rules with an iron hand, an assassin is summoned to the castle. She comes not to kill the king, but to win her freedom. If she defeats twenty-three killers, thieves, and warriors in a competition, she is released from prison to serve as the king's champion. Her name is Celaena Sardothien.
The Crown Prince will provoke her. The Captain of the Guard will protect her. But something evil dwells in the castle of glass--and it's there to kill. When her competitors start dying one by one, Celaena's fight for freedom becomes a fight for survival, and a desperate quest to root out the evil before it destroys her world.
Rating:
5/5 stars
I definitely,
definitely
found my new favourite series in
Throne of Glass
(yes, I know I'm late to the party, just go with it). There isn't anything that I
didn't
like, to be quite honest. It was just all perfect.
I read
Throne of Glass
in roughly two days. Part of it was because I was so excited to read my book, but also because the writing was just so good. The story flowed really well from scene-to-scene and the pacing was just right. The story never dragged on, even though I was a little bit worried about the whole Champion duels thing, because that kind of thing
can
drag on, but this really didn't. I did find the beginning a little bit rough around the edges - it was mostly because of that that I wasn't really sure if I would like
Throne of Glass
at first, but then after Celaena leaves Endovier, the story picks up and it's pretty much flawless from there.
Celaena was also one of my favourite things about the book. I like that, on top of being a badass, she was still a girl who like wearing dresses and reading. It was nice to see that for a change, since most characters in YA fantasies need to be tough and more "masculine" to be badass. I saw a lot of reviewers saying that being "girly" is one of Celaena's flaws, but I definitely don't think so. It wasn't too over the top to take away from it.
I loved all of the characters, too. Nehemia was awesome, I love her friendship with Celaena and I can't wait to see more of it. Dorian is also one of my new favourite characters/bookish boyfriends. I just wanted to wrap my arms around him and hold him at the end of the novel for what happened with Celaena. I just love him so much. Same with Chaol.
Though I did find the love triangle between Celaena/Chaol/Dorian a little bit unnecessary, but it wasn't
annoying
, per se, I just didn't really care for it. But I am kind of intrigued as to how the relationships are going to play out in
Crown of Midnight
.
I found the characters really well-written. They were in-depth and each had their own personalities and voices - I would read a whole book about each and every single one of these characters. Even Duke Perrington, Lady Kaltain, Cain and the King. They sent chills down my spine when they were in a scene because they were really well-written bad guys. It honestly doesn't happen often when I get afraid of the villains in stories. But I can definitely tell you, I would
not
want to cross the King of Adarlan. I don't usually fall so in love with each and every single character in a book, and to me that's what makes
Throne of Glass
totally excellent.
Throne of Glass
is a great series debut. The world that Sarah J. Maas created is well thought out and explained in non-confusing detail. I understood everything that was being explained and that was happening. Good fantasy series like these are hard to find and I'm really glad that I jumped onto the bandwagon. And if you haven't read
Throne of Glass
yet, I highly suggest you do!